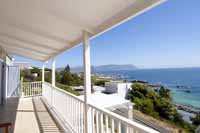 Top Patio and View Looking North
Click here for enlarged version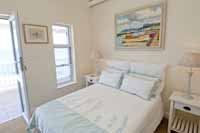 Middle Bedroom with Sea View
Click here for enlarged version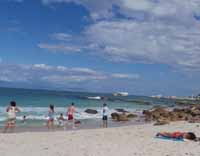 Fisherman's Beach - a 2 minute walk from Felsensicht
Click here for enlarged version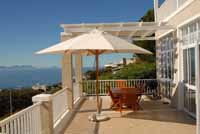 Felsensicht Balcony with Superb Ocean View
Click here for enlarged version
Directions to Felsensicht Holiday Home
Location:
10 Arum Road, Murdoch Valley North, Simon's Town, Western Cape, 7975
Directions:
From Cape Town International Airport, take the N2 towards Cape Town. Take exit 6 for Rhodes Drive towards M3/Observatory/Muizenberg. Merge onto Rhodes Drive and continue on the M3 until you reach a T-junction (M42).
Then, either take the 1st or the 2nd Route described below:
1st Route:
Turn left at the T-junction (M42) and 500m further on, turn right. Keep going straight through Muizenberg, St James, Kalk Bay, Fish Hoek, Glencairn and Simon's Town.
Alternatively, 2nd Route:
Should there still be roadworks along the Muizenberg/Fishhoek coast road (or over weekends when the coastal road is very busy with beachgoers, tourists etc), it is preferable to turn right onto the M42 at the T-junction at the end of the M3. After a short drive, turn left onto Ou Kaapseweg (this is the M64). Continue up the pass and down, continue up and over Glencairn Expressway (M6) until you reach the T-Junction at the coast. Turn right (this is Main Road, the M4), continue straight past Glencairn and through the centre of Simon's Town.
Then, take the coast road from Simon's Town, travelling south towards Cape Point. After approximately 2.2 km, you will see the Boulders Beach turnoff to the left and the Simon's Town Country Club on the right. Continue for 800m past the Froggy Pond Resort (formerly Oatlands Holiday and Conference Centre) and then the Cape Times Fresh Air Camp on the right. Turn 45° right into Valley Road which climbs steeply for 50m. Turn first right into Arum Road and 30m further on, you will find number 10 (Felsensicht) on the left.
The journey from the airport to Felsensicht will take approximately an hour, depending on traffic.
Maps:
Click here for a map of Simon's Town and surrounding suburbs.
Click here for a map of Simon's Town showing Murdoch Valley and Felsensicht.
GPS Co-ordinates of Felsensicht Holiday Home:
34° 12' 27.108" S
18° 27' 28.836" E
Google Map:
Click here to show the Google Map for Felsensicht Holiday Home.