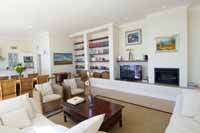 Lounge/Dining-Room Area
Click here for enlarged version


Main Bedroom
Click here for enlarged version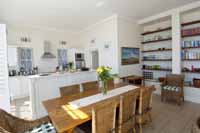 Dining-room & Kitchen
Click here for enlarged version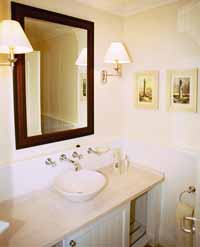 Guest Bathroom
Click here for enlarged version
Rates for 2022 and 2023
Our rates are quoted per day for the house and are for a maximum 6 persons.
2023

2024

Peak Season

House Rental:
R6428/day

House Rental:
R6750/day

High Season

House Rental:
R3980/day

House Rental:
R4179/day

Low Season

House Rental:
R3753/day



House Rental:
R3940/day


Availability
Click here for availability calendar.
Terms and Conditions:
A 30% non-refundable deposit is required in order to secure your booking. The remaining 70% is payable 6 weeks prior to arrival. All credit cards are accepted (Visa, MasterCard, Diners, American Express). Credit Card payments should be made through our secure Internet portal (details on request).
A refundable "breakages/loss" deposit is required (between R1750 and R5000 depending on the length of stay). This deposit is kept in trust and reimbursed, latest, one week after departure, following a satisfactory inventory count. This deposit is payable together with your 70% final payment.

Ours is a non-smoking establishment. We do ask you to sign our non-smoking agreement which forms part of our Client Information form (click here to see a copy of the agreement).
Bookings should be for a minimum of two nights except from 15 December to 15 January where the minimum period is three nights.
Should guests arrive after 8 pm, we would need to make special arrangments for our caretaker to do the check-in.
Child Policy
Felsensicht Holiday Home is ideal for a family holiday and we welcome children. We have a camp cot with mattress and bedding for your little one should he/she be less than 2 years of age. We do ask, however, that parents take responsibility for managing their children whilst staying at Felsensicht.
Cancellation Policy
30% deposit paid is not refundable if booking is cancelled.
70% final payment will be refunded if a new booking replaces the cancelled one. If a new booking only partly replaces the cancelled booking, a pro rata refund will be given.
Indemnity

We, the owners, managers, agents and related parties of Felsensicht Holiday Home, are not liable for any expenses, cost, claim, loss, damage, illness, injury, disability or death which our guests at Felsensicht Holiday Home may suffer and/or incur, whether directly or indirectly, as a result of their stay at Felsensicht Holiday Home.