Felsensicht Holiday Home
on FlipKey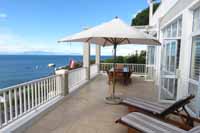 Balcony at Felsensicht
Click here for enlarged version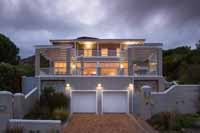 Felsensicht in Early Evening Light
Click here for enlarged version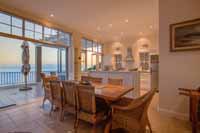 Dining-room and Kitchen at Felsenischt Holiday Home
Click here for enlarged version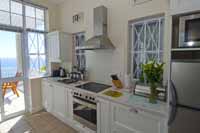 Kitchen with Sea View
Click here for enlarged version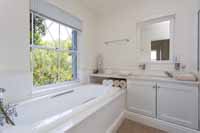 2nd Bathroom at Felsensicht Holiday Home
Click here for enlarged version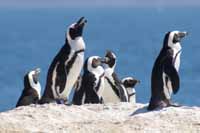 Penguins near Felsensicht
Click here to view enlarged version

Boulders near Felsensicht
Click here for enlarged version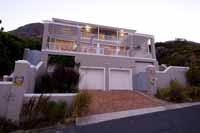 Felsensicht During the Early Evening
Click here for enlarged version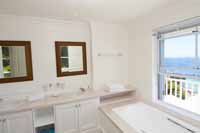 En Suite Bathroom
Click here for enlarged version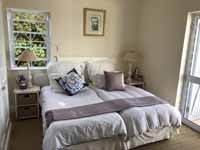 Twin Bedroom
Click here for enlarged version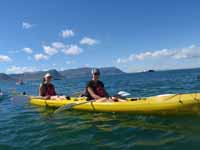 Sea-kayaking in False Bay
Click here for enlarged version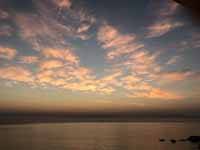 Sunrise at Felsensicht
Click here for enlarged version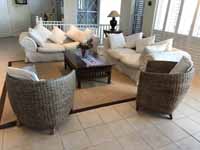 Lounge at Felsensicht
Click here to view enlarged version
Guest Reviews
Review by Denis Beckett, South Africa (stayed August 2019)
Hello, Gail and Rene, good to "meet" you via three nights at Felsensicht, and good to meet Felsensicht up close and personal. What an enjoyable period this was, made all the more so by staying in your lovely home. We much admired, too, the way that everything is so correctly done, and classy, and how you could leave us all those neat and clear instruction notes without ever sounding bossy! Not least, I for the first time meaningfully imbibe the impact of facing north across the bay. Sets thoughts in motion ...
Thanks and best wishes to you,
Denis Beckett
https://www.facebook.com/beckettstrek/?modal=admin_todo_tour
Review by Jackie and Anton Van Den Heever, South Africa (stayed February 2019)
We have been repeat guests at Felsensicht over the past 13 years. It is the most wonderful home in the most perfect setting. Thank you, Gail and René, for the many special memories we have here and hope to continue enjoying.
Jackie & Anton Van Den Heever
Review by Jacqueline Housel, USA (stayed December 2017)
Spacious home at a great location - just a few minutes walk to the beach. Terrific view from the balconies. Clean and comfortable. A great pick for our first trip to South Africa and the Cape area.
Review by Hans-Dieter Pries, Germany (stayed July 2017)
| | |
| --- | --- |
| Da wir "Felsensicht" nicht als Geheimtipp für uns behalten können: sehr Empfehlenswert | |
Drei Generationen, Großeltern, Eltern und Enkelkinder haben vom 05 -11.07.2017 einen Teil ihres Urlaubes in diesem sehr schönen Haus verbracht und sind voll des Lobes. Ausstattung und Zustand des Hauses sind überduchschnittlich, die Sicht auf die Bucht ist wunderschön. Die Lage auf der Kaphalbinsel und Nähe zu Kapstadt machen diesen Standort ideal für Ausflüge in die Region. Die organisatorische Abstimmung und Kommunikation sind einwandfrei. Die Boulders-Pinguine sind fussläufig erreichbar und,obwohl früh im Jahr, ein Wal und jagende Delfine wurden gesichtet.

Translated: Three generations, grandparents, parents and grandchildren spent part of their holiday in this very beautiful house from 05 -11.07.2017 and are full of praise. The equipment and condition of the house are above average, the view of the bay is beautiful. The location on the Cape Peninsula and close to Cape Town make this location ideal for excursions into the region. The organizational coordination and communication are impeccable. The boulders penguins are within walking distance and, although early in the year, a whale and hunting dolphins were spotted.
Review by Shireen Barnett-Harris (stayed March 2017)
Felsensicht is a wonderful house & we had an absolutely amazing time staying there. We often rent homes in & around Cape Town for long weekends & must say that your house is probably the most well maintained & organised house we have ever rented. It is extremely well kitted out with everything that we could possibly have needed & Jim, your caretaker, was a pleasure to deal with. And those views are something else! We look forward to staying there again
Review by Rod Coy, United Kingdom (stayed February 2017)
"Beautiful House in a Wonderful Location"
We are 3 mature couples who stayed at Felsensicht for a week in February 2017. The house is situated on a hillside above False Bay offering outstanding views of this wonderful coastline. The house is very well equipped, tastefully decorated and very well maintained. The open plan lounge area is very comfortable with loads of space for guests to sit together or for individuals to find a quiet corner. The kitchen has everything one might need. The very spacious terrace outside the lounge offers magnificent views across the bay. Eating breakfast here was a delight. We also made use of the excellent BBQ facility. The bedrooms are comfortable and all open onto the upper balcony. Security at the property is excellent. Only a short distance from the house is a gorgeous, safe swimming beach which is a great place to take a quick dip or spend a lazy day. Gail and Rene have provided huge amounts of information about the area and its attractions. Simon's Town has a great deal to offer any visitor. Make sure you visit and swim with the penguins at Boulders Beach. Delightful! Our pick of places to eat would include Bertha's, Mangata, The Salty Sea Dog and The Black Marlin.

From the moment we booked, communications with Gail and Rene were very easy. Any questions were answered quickly. We recommend Felsensicht without reservation. Thanks also to Jim the Caretaker. Sadly our stay of a week was far too short
Review by Marianne Strelau, South Africa (stayed September 2016)
You have the most wonderful home. Thank you so much for allowing us to use it. My German visitors loved and appreciated it. As we sat at the breakfast table it was wonderfully "gemütlich". We all felt very privileged that you trusted us with your beautiful furnishings. The art work is exactly our taste and was admired by all. If I have family visiting again, I will definitely contact you. With thanks and appreciation, Marianne.
Review by Geraldine McCauley, Great Britain (stayed February 2014)
"Loved this house"
As a family of five seniors, we found this such a delightful place to stay. The town was interesting and located close enough to Cape Town to take advantage but enjoy a peaceful setting. Many thanks to Jim for being so helpful. Highly recommended.
Review by Toni Mainprize, Cape Town (stayed September 2013)
We had a wonderful time at Felsensicht - thank you. You have really done a wonderful job on your beautiful holiday home and we immediately felt at home and relaxed there. We enjoyed Simonstown, the sailing in False Bay was beautiful and the weather turned out great. All in all we were very, very happy. Thank you for all your efficient organising for us and yes, we will definitely be back again.
Review by Wendy van Elden, Durban (stayed August 2013)
Felsensicht is a beautiful home with the most exquisite views imaginable. On a clear day you can see almost the whole of False Bay and sometimes you're rewarded with views of whales blowing and romping right in front of your veranda! The home is comfortable and has everything you need. The furnishings are tasteful and you feel like you've come home. The property is extremely well maintained and the wonderful gentleman who welcomes you and takes care of your needs is an absolute delight. The owners also go out of their way to ensure that you have a fabulous stay. There are lots of brochures and suggestions of things to do and places to visit. I would highly recommend this holiday home. It's very close to Cape Point Nature Reserve where the walks and views are spectacular; the wine farms of Constantia and Stellenbosch and surrounds are easily accessible; there are lovely restaurants (try the Harbour House) and coffee shops with croissants that are to die for; Chapman's Peak Drive and the famous Chapman's Peak Hotel (the calamari is legendary) are also very accessible. And of course the area offers so much more to explore - prepare to return many a time!
Review by Nicolas Wilmot, Norway (stayed Feb/Mar 2013)
The most impressive aspect of Felsensicht was the care and attention that the owners have put into the house in order to make everything practical and convenient. The house has a wonderful calm atmosphere and it is difficult to think of a better place to be to enjoy the sun and relax. It was very nice to meet the caretaker, Jim, as well and we had a couple of good talks - he is a delightful person.
The following sums up my feelings about Felsensicht: "If you are not happy here - you probably won't be happy anywhere."
Review by Jennifer Bell, USA (stayed October 2012)
Thank you for sharing your home. The accommodation is elegant and the view is spectacular. We thoroughly enjoyed the terrace. Simon's Town is beautiful and we can't wait to come back to visit. Thanks so much.
Review by Eileen O'Grady, Ireland (stayed March 2012)
Dear Gail,
I recently stayed in your home with Johan de Bruyn, his wife and some friends from Ireland. I just want to say a personal thank you to you. I had the most relaxing few days with a little hiking thrown in just to remind me life isn't always a lazy day on the beach. The wonderful views and precious memories will stay with me wherever I journey. You have a beautiful home and I thank you for sharing it with us.

Thanks to your lovely witty Caretaker too.

Kind regards
Eileen O'Grady
Ireland.
Review by Karen Smithers, Kwazulu Natal (stayed December 2011)
"Stunning views, excellent facilities, beautifully furnished"
We had a wonderful stay at Felsensicht during our son's recuperation from a back operation. The house itself is well situated with beautiful views from the bedrooms, bath (!), and balconies on two levels. It is beautifully furnished, comfortable, spacious, well equipped and peaceful. Simon's Town is a lovely village with no big franchised shops to spoil the atmosphere. Altogether a wonderful house which we'd like to return to in the future. It was a pleasure to book through Gail who took a personal interest in our wellbeing; and the caretaker, Jim, was organized and extremely pleasant to work with.
Review by Brad Matthews, Boise, Idaho, USA (stayed November 2011)
"Brilliant house, gorgeous view, great location and very kid friendly"
It's obvious that the owners, Gail and Rene, have put a lot of effort into making Felsensicht a comfortable holiday home. From a friendly greeting at the start by caretaker Jim to the well appointed and very modern furnishings, I think they've thought of just about everything. Gail was thoroughly friendly but professional throughout and I've come away very impressed!

We stayed for a week in November with our 19 month old son and it was a delight. The patio is large and very safe for a toddler (we picked the house in part because the railing appeared secure enough for a little one - it was). The beach is 200 metres away and offered endless entertainment - and 1/4 mile further is a beach full of penguins!

Highly recommended in every way.
Review by Kimberly Hochreiter, South Africa (stayed August 2011)
Thank you for a wonderfully relaxing weekend at Felsensicht. The house is beautiful and in excellent condition with some breathtaking views of False bay. We especially enjoyed walks in the surrounding area and trips to the beach. Thank you for a friendly reception by the caretaker and smooth organisation by the owner. We hope to return soon!
Review by Alyson Samson, South Africa (stayed August 2011)
Magnificent! We had a lovely stay. The house is wonderful and lacked nothing. We will definitely use it again.
Review by Helen Scott, Vermont, America (stayed April 2011)
We had a fantastic time in Cape Town. Your house was wonderful. It had everything that we needed. I will recommend it to my friends as well as travel agent.