Cape Town is the Place to be in 2014
Click here to link to SAPA News Article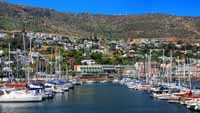 Simon's Town Harbour
Click here for enlarged version
Photo from print-digital.info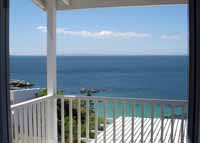 View from Felsensicht bedroom
Click here for enlarged version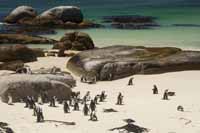 Penguins at Boulders Beach
Click here for enlarged version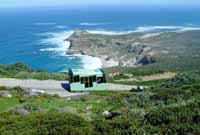 Funicular Railway at Cape Point
Click here for enlarged version
Picture by Len Du Preez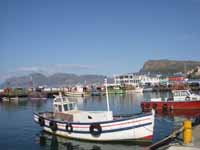 Kalk Bay Harbour
Click here for enlarged version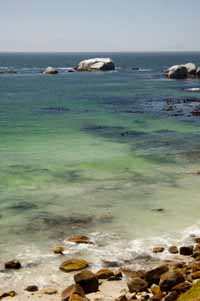 Turquoise False Bay Waters
Click here for enlarged version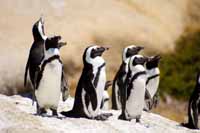 Talking Penguins
Click here for enlarged version
Simon's Town and its Surroundings
Description of Simon's Town
Simon's Town itself is a quaint and interesting little town. The Simon's Town waterfront is an extremely attractive area with a number of small boutiques selling clothing, artistic items, bric a brac and souvenirs. There is an excellent choice of restaurants within walking and/or driving distance of Felsensicht including Seaforth Restaurant, The Meeting Place, Saveur, The Salty Sea Dog, Café Pescado, Just Sushi, The Quarter Deck and, 2½ km from our home towards the south, The Black Marlin (see below for further information and restaurant links). We also have a food delivery service called Dashers (+27 66 244 6257) which delivers pre-cooked meals from a variety of restaurants in the area. Simon's Town is well known for its Naval Museum, Toy Museum and Simon's Town Cultural Museum. The Scratch Patch is also an important tourist attraction where one can 'scratch' for a wide variety of beautiful gemstones.
Beaches and Sporting Activities
The Boulders Beach National Heritage Site is extremely popular with visitors. It is 2 km from the centre of Simon's Town (1 km from Felsensicht Holiday Home), and, as well as enjoying the Boulders Beach, visitors can enjoy seeing and photographing the many penguins which have taken up residence here. Fisherman's Beach is a mere 2 minute walk from our holiday home, Felsensicht. It is perfect for children and adults alike who enjoy boogie boarding and body surfing. Nearby beaches with quieter rock pools and lagoons are ideal for children, and exploring the rocks and boulders strewn along the coastline is a wonderfully rewarding activity. Sporting activities in and around the Simon's Town area include swimming, body-boarding, surfing, windsurfing, sea kayaking, scuba diving, big game and shore fishing, yachting at the Simon's Town yacht club, golf, squash and bowls at the Simon's Town Country Club, birding, boat trips out to sea and cycling.
Climate, History and Places of Interest
The Cape is an area which experiences a Mediterranean climate - warm summers and cool winters. The rainy season is during the winter months but often one is fortunate to enjoy clear skies and warm days during the winter season. Simon's Town itself is an historic town which grew up as a result of the naval base which was originally established here. A visit to the Victoria and Albert Waterfront in Cape Town is a must, as well as a trip up Table Mountain in the cable car. A visit to the world renowned Kirstenbosch National Botanical Gardens should also be on all visitors' lists to Cape Town. The Cape Point Nature reserve is a very popular destination for visitors to Cape Town. Once at Cape Point, one can take the funicular up to the lighthouse and enjoy the glorious view of both the Atlantic and Indian Oceans. Further afield, one can enjoy a day out in the wine lands, sampling the excellent Cape Wines in the Stellenbosch, Swellendam, Paarl or Franschoek areas.
Copy the link below into your Internet browser to view a delightful YouTube video of Seaforth and Fisherman's Beaches:
https://www.youtube.com/watch?v=vHyxKrNNLVM
Restaurants in the Area
Powered By Dining-OUT,
part of the
Sleeping-OUT
group