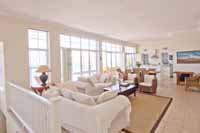 Living Area at Felsensicht
Click here for enlarged version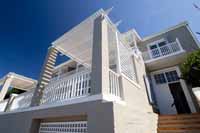 Low Angle Shot of Felsensicht
Click here for enlarged version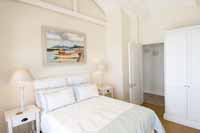 Middle Bedroom
Click here for enlarged version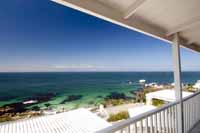 View from Top Patio Looking South
Click here for enlarged version

2nd Bathroom
Click here for enlarged version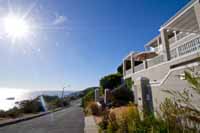 Side View of Felsensicht
Click here for enlarged version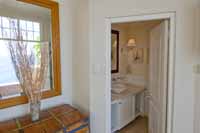 Entrance Hall and Guest WC
Click here for enlarged version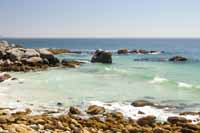 Fisherman's Beach, a 2 minute Walk from Felsensicht
Click here for enlarged version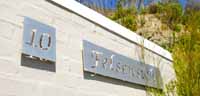 Felsensicht: 10 Arum Road, Simon's Town
Click here for enlarged version
Guest Reviews cont.
Review by Werner Riess, Pinneberg, Germany (stayed February/March 2011)

We enjoyed our stay at Felsensicht very, very much! The house is really stunning! The view of the sea is amazing, the room layout is great and we must admit that Simon's Town is a really nice little town.

It was quite difficult for us to leave Felsensicht - we missed the sea, and the house. I'm sure this will not be our last stay at your holiday home!
Review by Manny Elguera, New York (stayed February 2011)
Thank you for everything. Your place helped make for an unforgettable experience enjoyed by my family.
Review by Sybille Gillard, Johannesburg (stayed February 2011)
Your holiday home is absolutely stunning in all ways. We are all thrilled. Jim Boswell is a gem – so friendly and helpful.
Review by Moyra Collet-Serret, Kloof, Durban (stayed October/November 2010)
A perfect holiday escape in a magnificent setting. Jim was very friendly and helpful, would highly recommend this holiday home.
Review by Marina Hall, Cape Town (stayed September/October 2010)
Every year, for the past 2 years we have stayed at Felsensicht. We were met on arrival, made to feel very welcome and shown all the facilities. The modern rooms are beautifully decorated and the kitchen & lounge have all the mod cons required to make any stay a pleasant one. This tranquil house is set upon the mountainside and has panoramic sea views. A gem in Simon's Town.
Review by Carol and Ron Domanski, New York, USA (stayed September 2010)
The house was great! We stayed for 1 week. The bed was very comfortable. The house was very clean and user friendly. The internet was a bonus. The deck was a great place to relax with a beautiful view. We would sit out there and watch and hear the whales. We woke to a beautiful sunrise daily. It was close to town where we enjoyed many good restaurants. Be careful of the penguins when driving, especially in the evening. Wish we would have stayed longer. Would love to go back. I would definitely recommend this house. Gail was a pleasure to talk to.
Review by Kristien Wolmarans, Johannesburg (stayed August 2010)
We loved our stay at Felsensicht :-) It is such a lovely house and area. We regretted not being able to stay for another week :)
Review by Dorte and Henrik Maimann, Denmark (stayed March/April 2010)
I just want you to know that we had a really wonderful stay at your home in Simon's Town. There was absolutely nothing to complain about, the house and the location are just perfect and we felt welcomed by the house the minute we stepped in through the door. In addition, Jim did a good job introducing us to the house and the surrounding area, and we felt taken care of!

Although we only had one week off, we returned to Denmark rested and with re-charged batteries - just what we needed!

We have already started planning our return. One week and one visit are not enough as the Simon's Town area and the Western Cape have so much to offer and to see!!

Thanks for all!
Review by: Baronessa Nerina Mureddu, Florence, Italy and Kirsten Keeley, Surrey, UK (stayed: April 2009)
A heartfelt thank you for the most wonderful stay. A beautiful home-away-from-home with such splendid views. We will certainly be returning for more family holidays.
Review by: The Lee Family, Germiston, South Africa (stayed March 2009)
Words cannot express how wonderful this home is.
Review by: Carol Acebes, Little Compton, Rhode Island, USA (stayed March 2009)
What a beautiful place to have come to on my first trip to South Africa. I hope to return with my family and stay in your charming home.
Review by: Jane Philippi, Charlestown, Massachusetts, USA (stayed February and March 2009)
A wonderful home for me and, for part of my stay, 3 friends from the USA. The views were overwhelming. Thank you for sharing this inspiring place and thanks to Jim Boswell for the thoughtful details throughout.
Review by: Jörg Haase, Marl, Germany (stayed: January 2009)
Felsensicht is such an amazing place, it is unbelievable. It has a stunning and absolutely breathtaking view. Many thanks for hosting us. It's a pity we have to leave but we'll be back next summer, for sure.
Review by: The Nortons, Australia (stayed: November 2008)
Magnificent. House beautiful and so tastefully decorated. Views to die for and we were impressed with the whales you organised directly out the front! Thank you so much and thanks, too, to Jim Boswell.
Review by: Edith van Duren-Koenen, Nuenen, The Netherlands (stayed: August 2008)
After almost 4 weeks in South Africa and 20 different places of accommodation, we can truly say this was one of the best! Thank you for sharing your "perfect" house.
Review by: The Sithole Family, Centurion, South Africa (stayed July 2008)

We had a great time as a family and we were very comfortable in this home. We also want to thank Mr Boswell, the caretaker, for always making sure that we were fine – you are a star! We will definitely be back.
Review by: Justin and Pat Hall, Felicity & Alison, Assagay, Kwazulu Natal (stayed December 2007)
Weather near perfect. Felsensicht 110%+. What a beautiful home-from-home. Thank you, René and Gail, for the use of your creation, and thank you Jim for your welcome and care.
Review by Nicky & James de Reuck, Kean, Joshua & Emma, Johannesburg, South Africa (stayed May 2007)

This house was absolutely wonderful. We had the most perfect holiday ever. The kids swam and played for hours at the beach nearby. Many thanks.
Review by Dorthe, Emilie, Tobias and Thomas Rydberg, Vaerloese, Denmark (stayed January/February 2007)
Thank you so much for a wonderful stay in your fantastic house! It has certainly made our first visit to South Africa even more enjoyable. We will never forget the sea, the mountains, the colours, the people and the spectacular views from this house!